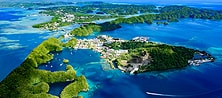 Australia & Pacific
Destination
Australia & Pacific
For idyllic beaches, relaxed coastal towns and an abundance of varying cultures, theres no looking past Australia and the South Pacific. And the great thing about cruise is that you can visit so many different destinations in the one seamless itinerary. For South Pacific itineraries, cruises tend to depart from cruising hubs on the east coast of Australia, with options to visit New Caledonia, Vanuatu, Fiji, Tonga, Samoa and Papua New Guinea. Some trans Pacific cruises also give you the opportunity to explore French Polynesia and the Tahitian islands. Locally, cruises offer some beautiful itinerary options. Explore the wilderness of Tasmania, beach hop in Queensland, or visit some of the highlights of Western Australias stunning coastline, just to name a few.
Questions? Contact
Cruises-N-More today!
We are happy to provide a toll free phone number into our office from locations within the USA and Canada. Additionally, we have toll free numbers for the convenience of those residents of Australia and the United Kingdom.
USA + Canada

Speak to a travel Specialist

800.733.2048

(toll free)

Fax: 407.771.0077

Australia

Speak to a travel Specialist

800.076.002

(toll free)

Fax: 407.771.0077

United Kingdom

Speak to a travel Specialist

0.808.189.1292

(toll free)

Fax: 407.771.0077