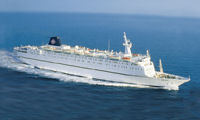 MSC Melody - Old
Overview
MSC Melody: Sweet Sound of The Seas
Just like your favorite song, a cruise vacation aboard the luxury MSC Melody cruise ship from MSC Cruises will remain in your memory long after your cruise has ended.
The smallest in MSC Cruises'' fleet, MSC Melody is designed to meet the highest standards of style and sophistication, while offering a relaxed and informal cruise ship experience.
With a capacity of just over 1,000 guests, MSC Melody is a beautiful bijou ship able to create a welcoming, intimate family feel on board. Graceful public areas with grand high ceilings lend the MSC Melody a sense of openness. Comfortable, stylish staterooms are spacious and well-appointed. The ship''s retractable, transparent Magrodome allows you to enjoy one of the two swimming pools and whirlpools even if the skies cloud over.
Boasting the best of modern amenities, you can indulge in a treatment at the beauty salon and wellness center or take in the rejuvenating ocean air on our specially-appointed jogging track. Don''t forget to sample wonderful cuisines in one of the two restaurants and comfortable lounges, and round off your day with a night of cards in the Seven Seas casino! Cruising with children? MSC offers an affordable family vacation, stress free! Kids sail free, and our onboard entertainment for children ages 3-17 is also free of charge!
For traditional cruising, MSC Melody offers the perfect travel opportunity to visit amazing destinations including South America cruises, Transatlantic cruises and Mediterranean cruises in true Italian comfort and style.
Choose MSC Melody, and your cruise vacation will be marked by the sounds of a great time!
Dining
MSC Melody offers a main restaurant, Galaxy, and an outdoor restaurant, Riviera Terrace. Each one boasts a top gastronomic selection thanks to the variety of dishes and the high quality of the foods, from choice Italian meats, scrupulously controlled, to fresh fruit. Every product is fresh and carefully handled, such as bread baked on board with the passion and knowledge of the most distinctive boulangerie. Dishes range from traditional and tasty Mediterranean fare, to the most refined international recipes. For a quick lunch choose Sunrise terrace buffet restaurant offering the utmost quality and variety in Italian and international cuisine.
Entertainment
MSC Cruises' uncompromising dedication to its passengers is nowhere more evident than the unrivalled entertainment programmes and facilities offered on board MSC Melody, with its 500 seat Club Universe, Starlight Disco and Seven Seas Casino with over 400 square metres of casino gaming and Galaxy Video Games, video games room.
Bars & Lounges
On MSC Melody guests can choose from 7 bars, inspired by different themes and inimitable in their wine and food selection, thus satisfying even the most sophisticated and demanding palates.
Gross Tonnage: 35,140
Total Staterooms: 532
Guests, Double Occupancy: 1,064
Total Guests: 1,492
Crew (approximate): 532
Launch Date: 1997 / 2001 Refurbished
Speed: 20 knots
Length: 672''
Beam: 99''
Current: 110/220 volts
Passenger Decks: 8
Restaurants: 3
Indoor Bars & Lounges: 6
Outdoor Bars & Pool Bars: 2
Pools: 2
Whirlpools: 2
No category information available.
Please select the deck plan you will like to see below
Sun Deck

General
Following several years of unprecedented growth, MSC Cruises is a leader in the Mediterranean cruise market, sailing in the region throughout the year, as well as offering a wide range of seasonal itineraries in Northern Europe, Transatlantic, the Caribbean, South America, the Indian Ocean, Red Sea, South and West Africa.
MSC Cruises is a privately owned European company, employing 15,500 staff around the world and present in 45 countries.
MSC Cruises is the only company in the world to receive the "Golden Pearls" award from the Bureau Veritas in recognition of its high level of quality management and environmental protection. As a family-friendly cruise line, MSC Cruises cares about children and in providing a lasting and positive impact in the lives of those kids in need. It recently forged a three-year, million-dollar partnership with UNICEF to fund a community project in Brazil while increasing awareness of this cause onboard its ships.
THE MSC EXPERIENCE
MSC Cruises is proud of its Mediterranean heritage,which is reflected in the company's reputation for sophisticated design and outstanding hospitality. Innovations in both exterior and interior designs for the MSC Cruises fleet have earned prestigious awards for naval architects De Jorio Design International.
The gourmet dining experience on board combines the best of Mediterranean and international cuisine. In the fields of service and comfort, MSC Cruises is continuing to set new standards in luxury cruising. Groundbreaking initiatives include the MSC AureaSpa, a lavish Balinese wellness centre, and the MSC Yacht Club,an exclusive area on the company's three flagships offering elegant suites with a round-the-clock butler service and numerous other privileges
Questions? Contact
Cruises-N-More today!
We are happy to provide a toll free phone number into our office from locations within the USA and Canada. Additionally, we have toll free numbers for the convenience of those residents of Australia and the United Kingdom.
USA + Canada

Speak to a travel Specialist

800.733.2048

(toll free)

Fax: 407.771.0077

Australia

Speak to a travel Specialist

800.076.002

(toll free)

Fax: 407.771.0077

United Kingdom

Speak to a travel Specialist

0.808.189.1292

(toll free)

Fax: 407.771.0077