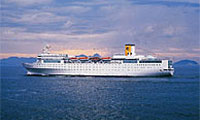 Z - Old - Costa Marina
Ship
Z - Old - Costa Marina
Overview
The Costa Marina has a unique continental look and style that offers a breathtaking view of the world. Guido Canali, a renowned Parma architect and designer, gave the ship a crystal-like personality. A glass enclosed roof spanning a three deck atrium cover. A slanted wall of glass, the surface of which a waterfall rushes to replenish a beautiful pool. A stunning glass cocoon that houses a European Spa and Fitness Center.
Dining
Are your taste buds ready to become overwhelmed with just the aroma of the most extraordinary meal you'll ever experience? Sounds mouth watering doesn't it? We invite you and yours to indulge in the best cuisines that Costa has to offer and more. No matter how picky your preference may be they'll all become satisfied over and over by the end of your cruise. Even the younger cruisers will find their old favorites and maybe even discover a couple new favorites.
Portofino Restaurant (on 2 levels)
Costa Smeralda Restaurant
Buffet Bellagio Restaurant
Tavernetta Club Vicenza
Cristallo Restaurant
Yacht Club Buffet
Harry's Bar
Marina Lounge
Laguna Bar
Pool Bar
Entertainment
If your looking for entertainment, Costa's Marina would definitely be the ideal ship for you. This vessel provides endless entertainment options to cater to the free will of all cruisers. You'll have the luxury of just simply relaxing in any of our lounges and soaking in the atmosphere filled with people interacting and music. If you're more in the mood for a theater, you'll find the Urbino Theater on three levels just for your enjoyment. If your spirit leads you to the Spoleto Dance Hall, feel free to unleash your dance fever.
Urbino Theater (on 3 levels)
Spoleto Dance Hall
Capri Lounge
Isola Bella Lounge
Grado Discotheque
Sicilia Casino
Internet Cafe
Salento Grand Bar
L'Aquila Bar (Cigar Bar)
Capocolonna Piano Bar
Activities
2 Swimming Pools (1 for children)
3 Jacuzzi Hydro Massage Baths
Jogging track
Fitness Center/Gym
Venus Beauty
Lido Laguna
Solarium
Built: 1990
Refurbished: 2002
Passenger Capacity: 776 (Double Occupancy)
Number of Crew: 393
Total Cabins: 388
Tonnage: 25,558 tons
Length: 577 feet
Beam: 85 feet
Decks: 9 (8 for Guest Use)
Max Speed:21.5 Knots
Cruising Speed: 20.5 Knots
Please note: Stateroom images and features are samples only. Actual furniture, fixtures, colors, configurations and window/porthole views may vary.
Outside Cabin
Description
Oceanview; 2 lower beds convert to queen
Outside
Description
Oceanview; 2 lower beds convert to queen
Single Outside Cabin
Description
Oceanview; Single
Inside Cabin
Description
Inside; 2 lower beds convert to queen
Single Inside Cabin
Description
Inside; Single
Suite
Description
Suites with veranda; 2 lower beds convert to queen, whirlpool bath, shower and sitting area
Please note: Stateroom images and features are samples only. Actual furniture, fixtures, colors, configurations and window/porthole views may vary.
Please select the deck plan you will like to see below
Sun Deck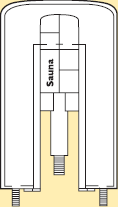 Vendor
Costa Cruise Lines
General
A 70-year journey
Almost 70 years since our first voyage with the Anna C on 31 March 1948, from Genoa to Buenos Aires, we are still going and still travelling the world's seas today with the Italian flag proudly flying above our heads. We have lots of stories to tell: one for each of our ships. The Franca C, for example, was the first ship in the world to be built for cruises. The year was 1957. Over time the designs, sizes and decor of the ships have changed, and balconies have been introduced to the majority of cabins; the tastes and requirements of passengers have evolved but our values have remained unchanged, our commitment to our customers.
Costa Crociere: horizons that know no bounds
For 70 years Costa Crociere has embodied Italian style and hospitality. We have always made it our business to introduce our guests to the world's most stunning places, giving them the chance to explore different destinations and discover the different cultures in the five continents with complete respect for their identities. As the only cruise company flying the Italian flag, it is our responsibility and duty to act as an ambassador for Italian values in the world and to represent our country at our ports of call. At Costa responsible innovation is a key factor when we design the ships of the future and develop the onboard experience, a process carried out with maximum attention to detail in order to offer a holiday geared towards discovering local cultures and experiencing them as responsible travellers.
This is why we have plotted a course that regards innovation and sustainable development as the foundation for our future. For this reason, we strive to minimizes the impact we generate on the destinations we visit with you.
Questions? Contact
Cruises-N-More today!
We are happy to provide a toll free phone number into our office from locations within the USA and Canada. Additionally, we have toll free numbers for the convenience of those residents of Australia and the United Kingdom.
USA + Canada

Speak to a travel Specialist

800.733.2048

(toll free)

Fax: 407.771.0077

Australia

Speak to a travel Specialist

800.076.002

(toll free)

Fax: 407.771.0077

United Kingdom

Speak to a travel Specialist

0.808.189.1292

(toll free)

Fax: 407.771.0077