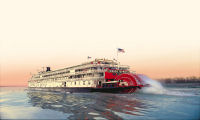 Delta Queen
Activities
Relax in the cozy comfort of the Betty Blake Lounge. Sip tea in the Forward Cabin Lounge, then join in the rollicking fun that never seems to end in the Texas Lounge. Stroll the decks outside your wood-paneled stateroom, each of which boasts an exterior view on riverside America and features individual climate control and private baths. Admire the Delta Queen's rich woodwork, the soft glow of her stained glass transoms, her glittering crystal chandelier and antique furnishings. Bask in her hospitality, try playing her vintage calliope, and share the camaraderie of the Steamboatin' family who cherish her legacy.
Entertainment
Evening offerings after dinner tend toward smaltzy and nostalgic rather than glitzy. Connie Jones And The Riverboat Five do Dixieland, show tunes, Big Band numbers without the big band, and dance music from eras gone by. Annie Lebeaux is a versatile singer and piano player. Shows are presented after dinner in the Orleans Room, with chairs arranged around tables. We arrived a few minutes early each evening and had no trouble getting good seats. The Bose sound system was good. Jeff Lashway mans the keyboard in the
Texas Lounge
and during dinner in the dining room and accompanies the band. Several of the musicians play the boat's 1897 calliope, an antique steam-powered organ located aft above the paddle-wheel. For one evening's concert the steam is colored in what the staff called the "Aurora" effect -very pretty. Passengers get a crack at this unique instrument themselves and are rewarded with a "Vox Calliopus" membership award for hitting five keys. Late-nighters, who are few, can hear more of Annie's repertoire at the
Night Owl Society
every evening beginning at 10:15 in the
Texas Lounge
.
An important feature of the Delta Queen is her various themed cruises offered every year. Jazz, spring pilgrimage, the Civil War, steamboat racing, Cajun culture, fall foliage and holiday trips are examples.
Dining
There are two over-lapping sittings in the Orleans Dining Room. Everyone sits at a designated table, but early-seating passengers are enjoying dessert when main seating passengers arrive. Not having to turn over tables between seatings eliminates the rush and strain. Breakfast and lunch are open seating, with both buffet and menu selections. Continental breakfast starts early and runs late in the Forward Lounge. Cuisine on the Delta Queen is down-home and hearty. Steak, prime rib, southern-style barbecue ribs and chicken, fried catfish, soups, green salads and tasty pastry (including the line's famous bread pudding, available every night) and ice cream desserts highlight the menu. Cajun and Creole dishes are featured, as well as other regional selections and a vegetarian and a heart-healthy dish are offered at every lunch and dinner. Grilled chicken breast with steamed vegetables and baked potato is available every night as another light selection. In case you work up an appetite walking the open decks after dinner, there's also a themed Moonlight Buffet at 10:15 that is strong on desserts. Service in the Orleans Dining Room was attentive and lively.
Please note: Stateroom images and features are samples only. Actual furniture, fixtures, colors, configurations and window/porthole views may vary.
Vista Outside Suite
Description
The best of steamboat accommodations, these richly furnished suites are reminiscent of an earlier day. Each suite offers windows to view America, sitting area, a queen bed or two single beds, and a private bathroom with tub and shower. Two have an inside entrance from the Betty Blake Library, and two are situated right up front, below the pilothouse.
Superior Outside Stateroom
Description
These luxurious accommodations are graciously furnished and reminiscent of times gone by. Each suite offers windows for viewing America, a queen bed, a comfortable chair and desk, and a private bathroom with shower.
Deluxe Outside Stateroom
Description
These outstanding staterooms are distinguished by splendid antique-style furnishings. Each stateroom offers an inside entrance from the Betty Blake Library, either two single beds or a queen bed, large windows topped with stained glass, and a private bathroom with shower. *Note: Staterooms 117, 118, 121 and 122 have a partially obstructed river view.
Outside Stateroom
Description
These extra-spacious staterooms feature wood-shuttered windows that frame your view of America. Handsomely furnished, each stateroom offers two single beds and a private bathroom with shower.
Please note: Stateroom images and features are samples only. Actual furniture, fixtures, colors, configurations and window/porthole views may vary.
Please select the deck plan you will like to see below
Sun Deck

Vendor
Majestic America Line
General
The dream of America starts here.
One of the world's premier river cruise lines and the largest river and coastal cruising company in the United States, Majestic America Line provides guests with a graceful, refined experience exploring extraordinary American destinations. Majestic America Line' fleet of U.S.-flagged and built ships travel the storied rivers and coastal waterways of America from Alaska's Inside Passage to the raging rivers of the West to the mighty Mississippi.
With each ship offering a boutique experience unique to itself and intimate access to the scenic places, historical events and varied cultures that define regional America, the travel experiences available to guests are immeasurable. The company's unmatched attention to quality with deluxe comfort and warm, attentive service from an American crew makes a voyage on the ships of Majestic America Line a truly unforgettable experience. The company's intimate ships ensure a comfortable, yet refined, cruise experience where guests can mingle with everyone aboard, from their fellow adventurers to the Majestic America Line crew, including the ship's captain.
Formed in 2006 through the combination of American West Steamboat Company and Delta Queen Steamboat Company, Seattle-based Majestic America Line is a division of Ambassadors Cruise Group, LLC, a wholly-owned subsidiary of Ambassadors International, Inc. (Nasdaq: AMIE).
Questions? Contact
Cruises-N-More today!
We are happy to provide a toll free phone number into our office from locations within the USA and Canada. Additionally, we have toll free numbers for the convenience of those residents of Australia and the United Kingdom.
USA + Canada

Speak to a travel Specialist

800.733.2048

(toll free)

Fax: 407.771.0077

Australia

Speak to a travel Specialist

800.076.002

(toll free)

Fax: 407.771.0077

United Kingdom

Speak to a travel Specialist

0.808.189.1292

(toll free)

Fax: 407.771.0077