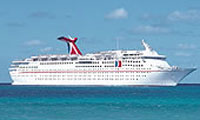 Z - Old - Holiday
Overview
Everyday is a Holiday, for you to celebrate however you please, aboard this fantastic floating resort. Carnival''s Holiday is worth every penny that was spent to build her. From the moment she started to embark passengers for her maiden cruise, Holiday has celebrated with over 1,400 passengers twice a week. Because of the large number of satisfied cruisers, Holiday has received a 98% vote of confidence. The small two percent must have been looking for a quiet, sophisticated cruise ship and not the big, and sometimes loud, FUN SHIP that she is. As many as 1,850 passengers a week can fill the upper berths with Laughing, Partying, Feasting, not to mention Sunning, Sightseeing and enjoying their time aboard. Carnival Holiday, it is just more fun.
Entertainment
Once the sunset, the fun has yet to reach its climax. Once you are within Carnival Holiday's perimeters your entertainment opportunities are endless. Our crew specializes in making your cruise memorable to the max. The Carnival Holiday is equipped to suit any and every preference. Our accommodations consist of leisure hot spots from our non stop action Gaming Club Casino or taking a load off and having a drink at the Wharf Bar and Grill.
The Americana Lounge providing top-notch Singing, Dancing, Comedy & more
Gaming Club Casino - Nonstop action
Reflections Dance Club - Disco
Tahiti Lounge
Doc Holiday's - Smaller show lounge
Rick's Cafe American
Cappuccino's Bar
The Bus Stop Bar
Wharf Bar & Grill
Electronic Game Room
Dining
Sophisticated Dining
It's always a culinary event in our formal dining rooms. We've set the table for a first-class dining experience, including: fresh lobster on every cruise, an extensive wine list and attentive service.
Supper Club
For more intimate dining, many ships feature a reservations-only supper club with a Manhattan-chic setting and a menu that includes steakhouse favorites. Every meal is a celebration in our reservations-only Supper Club.
Casual Dining
From the extravagant midnight buffets (on select ships), to the European-style cafes, sushi bars and 24-hour pizzeria, you'll discover a myriad of palate-pleasing favorites that even the most discriminating diner will enjoy.
Satisfy Every Appetite
We didn't forget about our youngest cruisers. Our children's menus feature plenty of kid-pleasing favorites including spaghetti and meatballs, hamburgers, hotdogs, pizza, assorted desserts and much more.
Activities
This is the only place where your fantasy becomes reality. Once you're aboard Carnival Holiday your destiny is within your hands. We cater to any and all preferences known to man. If you're an over worked cruiser, we furnish you with the luxury of indulging in our Steam Rooms and Sauna, spectacular beauty rejuvenating, as well as ultimate relaxation with a full-body massage. We also supply a Swimming Pool for children as well as a Children's Playroom for the adrenaline rushed cruisers.
Carnegie Library - A quiet place to relax with few books
Card Area - Times Square or Union Square
Conference Room
Jewelry Shop
3 Outdoor Swimming Pools - One especially for the children
Children's Playroom
Gymnasium
Nautica Health Spa & Massage Room
Fun activities & competitions on board like Ping Pong, Shuffleboard, Bingo & Dance Lessons
Aerobics Room
Beauty Salon & Barber Shop
Galleria Shopping Mall & Duty-Free Shops
Electronic Game Room
Closed Circuit TV
Shuffleboard & Table Tennis
Photo Gallery
2 Whirlpools
Date Launched: 07/01/1985
Registry: Bahamas
Officers: Italian
Crew: International
Complement: 660
Gross Tons: 46,052.0
Length (ft.): 728
Beam (ft.): 92
Passengers: 1844
Stability Rating: Good
Dinner Seatings: 2
Cuisine: Contemporary
Dress Code: Traditional
Room Service: Yes
Tipping: $10.00 PPPD, 15% automatically added to bar checks
Outdoor Pools: 3
Indoor Pools: 0
Jacuzzis: 2
Fitness Center: Yes
Spa: Yes
Beauty Salon: Yes
Showroom: Yes
Bars/Lounges: 10
Casino: Yes
Shops: Yes
Library: Yes
Child Program: Yes
Self-service Laundry: Yes
Elevators: 8
Suites: 10
Outside Doubles: 447
Inside Doubles: 279
Singles Cabins: 0
Singles Surcharge: 150 - 200%
Verandah Cabins: 10
Please note: Stateroom images and features are samples only. Actual furniture, fixtures, colors, configurations and window/porthole views may vary.
Suite with Balcony (Obstructed View)
Description
Suite with a Large Private Balcony and Twin Bed that converts to King
Stateroom Upper/Lower
Description
Stateroom with upper and lower beds
Inside Stateroom Twin/King
Description
Interior stateroom with twin beds that convert to a king.
Oceanview Stateroom with Portholes
Description
Oceanview stateroom with a porthole and twin beds that convert to a king.
Oceanview Stateroom Twin/King
Description
Oceanview stateroom with twin beds that convert to a king.
Balcony Guarantee
Description
Any oceanview stateroom with private balcony, or better, depending on availability.
Inside Guarantee
Description
Any inside stateroom, or better, dependng on availability.
Ocean View Guarantee
Description
Any ocean view stateroom, or better, depending on availability.
Suite Guarantee
Description
Any suite with a large private balcony depending on availability.
Please note: Stateroom images and features are samples only. Actual furniture, fixtures, colors, configurations and window/porthole views may vary.
Please select the deck plan you will like to see below
Sun Deck
Vendor
Carnival Cruise Line
General
In a nutshell... we're all about fun vacations at sea and ashore! A Carnival cruise features day and nighttime entertainment like stage shows, musical performances, deck parties, casinos and more. (Like what? Like waterslides!) We invite our guests to come as they are, and we make everyone feel right at home with comfy staterooms, attentive service, casual and elegant dining, plus a variety of bars and gathering places indoors and out. Guests enjoy this unique experience against the backdrop of some of the world's most beautiful seaports.
Our 26 ships operate 3- to 24-day voyages, departing from every coast in the U.S., as well as Canada, Puerto Rico and Barbados. While we're best known for Caribbean cruises, we sail to other exotic and amazing destinations like Mexico, Alaska, The Bahamas, Europe, Hawaii and the Far East. Additionally, Carnival Cruise Line Australia now has three ships, and offers cruises from Sydney and Melbourne to New Zealand, the Pacific Islands and Singapore.
Carnival Cruise Line proudly supports important causes like St. Jude Children's Research Hospital.
Questions? Contact
Cruises-N-More today!
We are happy to provide a toll free phone number into our office from locations within the USA and Canada. Additionally, we have toll free numbers for the convenience of those residents of Australia and the United Kingdom.
USA + Canada

Speak to a travel Specialist

800.733.2048

(toll free)

Fax: 407.771.0077

Australia

Speak to a travel Specialist

800.076.002

(toll free)

Fax: 407.771.0077

United Kingdom

Speak to a travel Specialist

0.808.189.1292

(toll free)

Fax: 407.771.0077